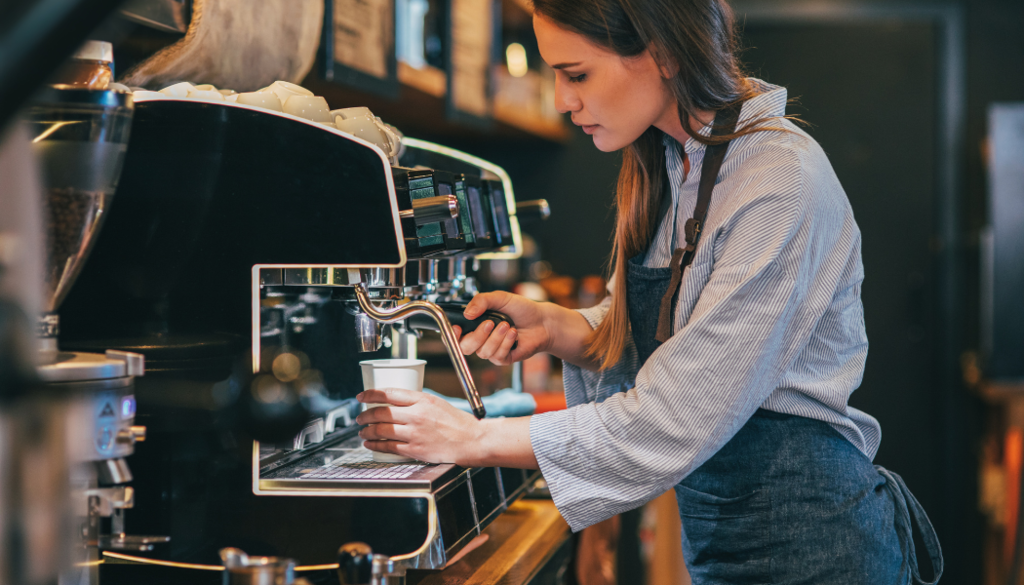 Online Ordering
10 Jul 2022
Online ordering system for coffee brands
There are numerous benefits of getting an online ordering system for coffee brands. It expands your customer base, increases your revenue, gives your customers a variety of options, and it also offers unparalleled convenience. 
If you are starting a coffee business and want to attract more customers, here is the way to do it!
1. Start with online coffee orders 
The online ordering app for coffee shops will save time for both customers and employees. With Fimble's mobile ordering, customers can order their favorite coffee flavor via smartphone, which will be prepared by the barista. Then they can just pick up their orders at the counter without waiting for their turn in line. The customers do not have to wait long in line to order and the employees do not need to take care of a lot of orders at once. Remember that for every customer willing to join the line, there are others going to your competitors instead.
2. Add digital loyalty to your coffee brand
Cafeterias with a digital loyalty program let you try new coffee flavors more often than cafeterias with the basic stamp card loyalty program. You can create different ways to earn points, give out limited-time rewards or personalize incentives. Also, digital loyalty can be strengthened by offering subscriptions to your customers. This way, you can build a database of customers and provide them with valuable content and services.
3. Upgrade the customers' experience with the right technology
In the digital age, your online presence is as important as your store presence. Customers don't prefer slow, confusing, or difficult to use apps. A how-to guide for online ordering at your coffeehouse is a good idea. Also, your online ordering system and digital channels should look and feel like your brand and never feel generic or budget-priced. They have to allow you to supply a personalized experience with intelligent recommendations, upsells, saved favorites, or instant reordering. The modern customer values convenience and quality, and therefore the right technology enables coffee shop operators to deliver more of both.
4. Add self-service kiosks to reduce queues
Along with quality, customers desire speedy and hassle-free service. The secret to providing excellent customer service is to effectively manage your resources and deploy automation using the appropriate technologies. Self-service kiosks are a fantastic way to streamline your operations, increase profitability, and provide world-class customer service. By using self-service kiosks, you can save money on waiting periods and free up money for more crucial activities. Also, customers can skip long queues and efficiently operate the self-serve kiosk to obtain accurate and fast services with greater privacy. Finally, kiosks offer tailored digital signage that advertises your company. The kiosks can be altered to reflect your brand's style. On the screen and TV are your brand's distinctive colors and logo. This helps you raise your brand awareness.
Food for thought
In this competitive landscape, Fimble's online ordering system can give coffee houses and cafe operators powerful tools to introduce greater efficiency, convenience and personalization into their business. In addition, it enables you to gather data across your entire clientele. With this data, you'll be able to start to know and interact with your most precious customers on a whole new level and make more informed strategic decisions about the longer term of your business. If the idea of ​​dealing with data makes you anxious, check out our article "How to collect and organize your restaurant data using Fimble".