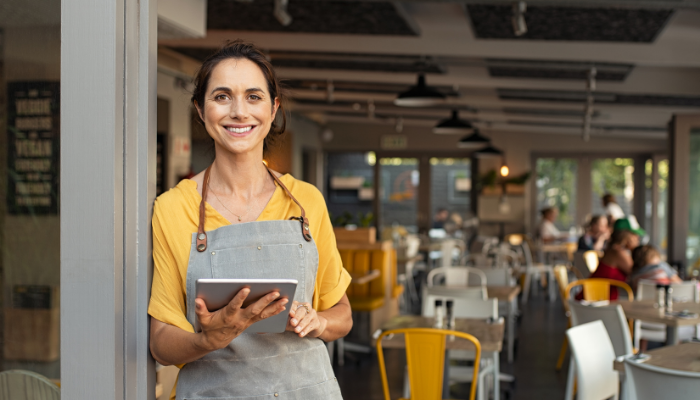 How to collect and organise your restaurant's data using Fimble
Data collection is the new "goldmine" in the food and beverage industry today. Restaurants that take advantage of technological advances have access to large amounts of data. With a strategic approach, your restaurant's data will help you develop every aspect of your business.
The majority of restaurant owners have no idea where to begin. Let us start with step one. How do you gather the data your restaurant needs to grow? Fimble is here for you! All the features you need in a single system. 
1. Start with POS system 
Restaurants have their specialties, and that's why they need a POS system that meets their specific needs. Modern POS systems collect an impressive amount of data that restaurants can use and increase their sales. With Fimble you get a next generation point of sale system for your PC, touchscreen PC or tablet. Fimble also supports automatic pricing, rewards, dark mode, right or left-handed interface, collapsed interface for faster browsing and much more.
2. Monitor the performance of your employees
Both your internal team and your delivery team are critical to your success. The safest option for evaluating your kitchen staff, servers, and delivery team, is to use restaurant data analytics. Knowing how your staff is performing not only improves the customer experience, but also helps you avoid staff churn.
3. Keep track of specific customer data.
A restaurant must keep track of statistics on guest management in order to increase efficiency and customer service. There are great ways to get to know your customers. Ιnformation like name, anniversaries and birthdays to reward them with a free meal, favorite dishes to give them a discount on a certain menu, email addresses to send them coupons and restaurant updates are quite straightforward and easy to collect. 
4. Use restaurant data as a competitive tool
Once you have optimized your customers' experience, you can use this data to manage your restaurant. This way, your prices will improve. Also, many restaurants collect information about their customers through loyalty programs, which diners can join online or through an app. Customers receive points after a specific number of visits, which they can use to get discounts or free meals. Fimble's management system includes everything you need, from orders to inventory.
5 . Capture your data
This means advanced statistics that actually mean something and provide valuable insights into your business, including labor reports, food costs, heat maps, segmentation and more. This will help your business make the most of its resources while avoiding overspending. 
Food for thought 
If you ignore the data your POS collects, you are missing out on potential profits. Once you've gathered all of the essential data sets from various sources, the following step is to bring them all together in one place to get a complete picture of the data. Analyzing your restaurant data is the process of examining all of your business data and turning it into actionable insights. If you need even more information, you can check out 6 ways to use restaurant data analytics to increase your sales.