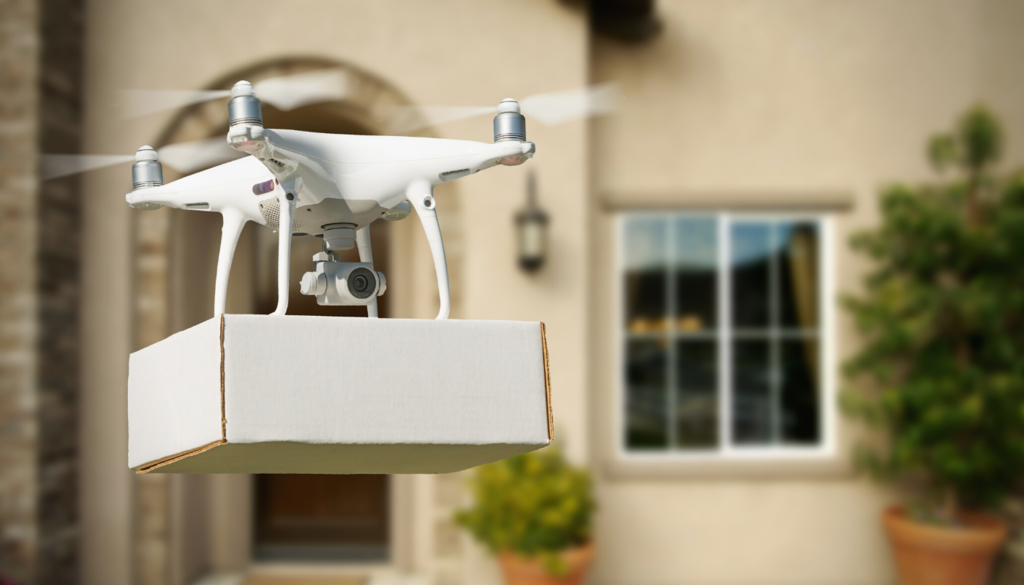 Industry Trends
17 Jan 2022
Drone delivery: The next big thing!
Have you ever imagined your online food order landing in your hands after a flight? Technology is evolving and with it, we are all adapting to a new reality. Drone delivery is the next big thing! It is a revolutionary idea that is already being implemented by several companies, starting with the market leader Domino's.
A quick look at how food delivery by drone works!
Delivery by drone is done autonomously or remotely via a ground station. Drone operators can monitor multiple flying bots simultaneously and keep an eye on each package delivered. For the customer, the process remains the same. They order their food online through Fimble (either web or mobile ordering) and then they meet the delivery to the designated pick-up point.
6 reasons why drone deliveries are impressive:
1. Drones are environmentally friendly
Climate change is having a profound impact on our lives. Every day, thousands of vehicles are on the roads to transport food from restaurants to customers. According to a study by the European Environment Agency, drones have lower CO2 emissions compared to other delivery vehicles.
2. Cheaper and faster delivery
In the long run, drones are proven to be cheaper than delivery vehicles, resulting in savings on logistics costs, including labour. They guarantee faster delivery since they do not have to deal with road traffic. A product is delivered within a few minutes, depending on where the customer is located. Also, the food inside the package is less likely to be damaged because drone flight is relatively smooth.
3. Drone deliveries promote the economic development of areas
In many underdeveloped areas, it is difficult to get around. Drone deliveries can solve this problem of local consumption. More jobs for the programming and maintenance of drones will be created as well.
4. High level of efficiency
With GPS technology, the drone delivery can automatically navigate to a specific address. This technology has a higher success rate in performing the same task compared to humans. Since drones work with coordinates, they can fly -fast- anywhere to deliver food and drinks to the end-customer.
5. Save time and energy
When delivery drones provide services to the food and beverage retail industries, employees can focus on other important things in the purchasing process. With accurate tracking programs, this service offers the potential of a lower error rate. Consumers get their food faster, restaurants can increase sales, and that leads to higher productivity and more happy customers.
6. Provide a safer delivery system
Drivers who deliver food packages take on a certain amount of risk. There is always a chance that they will be involved in an accident, run out of fuel, or experience delays due to road construction. In addition, delivery drivers are sometimes exposed to dangerous environments. Delivery drones make delivery safer by removing many of these factors from the equation.
Food for thought
Drone delivery was an idea that seemed to have come out of a science fiction movie. The same goes for any innovative idea based on technological data. All beginnings are hard until they become a necessity. Does using Drone delivery seem a complicated option for your restaurant at the moment? Baby steps! Start by optimizing your current restaurant delivery service. Learn how on our blog post "Optimizing your restaurant delivery service: 8 factors to consider".