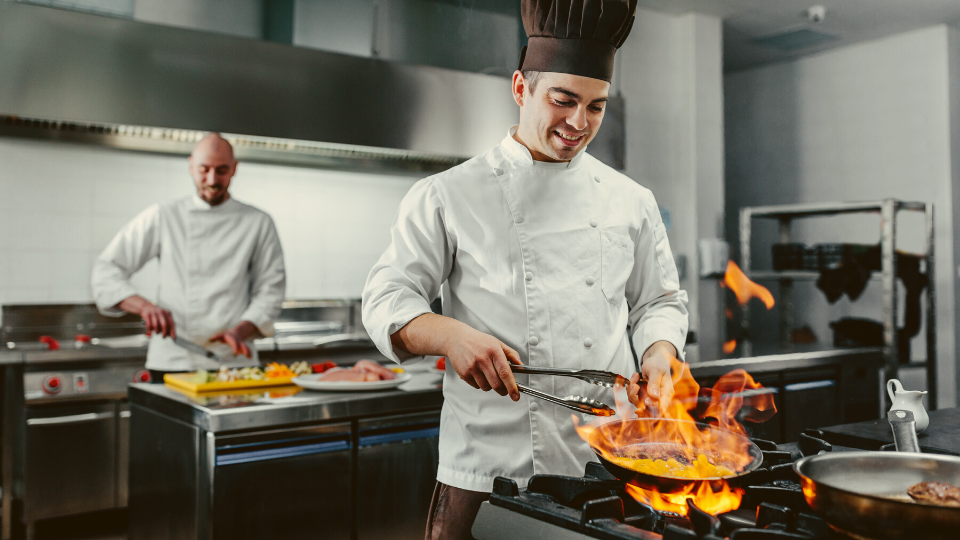 Pros and cons of operating a dark kitchen
The rise of online food delivery has created a new type of restaurant. Known as dark, ghost, or cloud kitchens, restaurants that follow this business model do not accommodate dine-in customers but offer delivery or takeaway only. 
Why have dark kitchens become so popular? Sure, there are many benefits that make cloud kitchens an attractive option, but there are also a few pitfalls to consider. Here's what restaurant operators need to know before opening a dark kitchen.
Dark kitchen pros
Should you open a dark kitchen instead of a physical restaurant? Let's start with what you win. 
1. Lower costs
An obvious benefit of operating a cloud kitchen is the lower costs, both upfront and recurring. For starters, you can forget about furniture and fancy decoration. Instead, you focus on quality kitchen equipment and technology tools. Your staff requirements will be limited to kitchen staff and drivers, since a ghost restaurant doesn't need waiters and front end support. Your rental costs will be lower as well -- dark kitchens occupy a smaller space and don't need to be located in high-traffic or trendy neighborhoods.
2. Better data
In some sense, a dark kitchen lives online because all related transactions take place online. Which means that all these transactions are automatically documented on your food ordering system, POS, and any other software you're using. 
The reports generated by these tools contain restaurant data on everything that matters, such as popular dishes, customer loyalty, customer demographics, order frequency and average value, and more.
This information is valuable and gives you reliable feedback and insights that you can use to understand your business and your customers better and, therefore, improve your offerings and plan for the future with less risk.
3. Easier to expand
Dark kitchens are highly scalable because they require a lower upfront investment and are much quicker to set up. By opening a cloud kitchen in a new location and expanding your delivery radius, your profit increases, and you get ROI much faster than you would have if you opened a physical restaurant. 
4. You're more competitive
With a dark kitchen, you'll have a larger profit margin. This translates into more money to advertise your business, lower prices, and better offers and deals for your customers. A dark kitchen is, therefore, more competitive than a physical restaurant that also offers delivery.  
5. Pandemic-resistant
This is a benefit no one would have thought of before the COVID-19 pandemic, but now you couldn't possibly ignore it. Restaurants that depended on dine-in customers only found themselves in dire straits during the lockdown. Many had to shut down for good and others are still struggling to stay afloat. 
At the same time, though, restaurants that had already invested in delivery weren't hit as hard or even profited from the surge in online food orders. Hopefully, we'll never have to face a similar situation again. But if we do, dark kitchens have a better chance of surviving.
Dark kitchen cons
What's on the other side of the coin? These are the challenges of operating a dark kitchen:
1. It's harder to build customer loyalty
When opening a dark kitchen, can't count on people passing by your restaurant and noticing you. So you might struggle to attract customers, especially when a dark kitchen is your first attempt at opening a restaurant and people haven't heard of you before. 
The limited in-person interaction makes it harder to engage with customers and build loyalty as well. You can still add a personalized touch to your customer service, with "thank you" notes in your delivery bags, for example. But gaining and retaining more clients for dark business usually requires a different approach, bringing us to our next point.
2. It's not as cheap as you thought
To build customer loyalty, dark kitchens invest in marketing campaigns, technology tools, and excellent staff. Therefore, you will have to spend more money than you originally thought.
To attract first-time customers, for example, you will need to sign up for an aggregator service and give up part of your profit. You'll also have to develop an online marketing strategy, which usually includes paid ads and SEO. 
You'll also need to invest in diverse and robust restaurant management software for different purposes. A few examples? Tools streamline your processes so that you provide fast service, to process payments fast and safely, to support a loyalty reward program, and to get access to customer feedback and data. 
As for your staff, it's important that you hire experienced cooks who can work fast and cook delicious meals. Consider also training your drivers to ensure they serve your customers with professionalism. They are the only people your customers will meet, so their behavior matters.
3. You might have to dream...smaller
Although there's larger room for profit with dark kitchens, there's significantly less room for creativity and personal relationships. A dark kitchen deprives you of the joy of creating a place with character, one that you can decorate with your personal taste. 
Dark kitchens work well for mainstream cuisines and everyday occasions. If you're interested in opening a restaurant with high cuisine, however, a dark kitchen is hardly an option. Customers who seek eclectic tastes will want to enjoy their culinary experience in an elegant environment and not at home. 
Last but not least, building a rapport with customers that only order online is very different to circulating your restaurant, greeting your customers, and feeling the vibe of your restaurant. If these things matter to you, then operating a cloud kitchen might feel unfulfilling.
Food for thought
With online food delivery being so popular, opening a dark kitchen is a relatively safe investment in a notoriously competitive and precarious industry. That said, food operators leaning towards this option should be ready to invest in online marketing and talented staff to make up for the limitations of a dark kitchen. 
Have you thought about how the rise of dark kitchens has changed online food delivery? Check our post How Cloud Kitchens Are Shaping The Online Food Delivery Space to find out more.