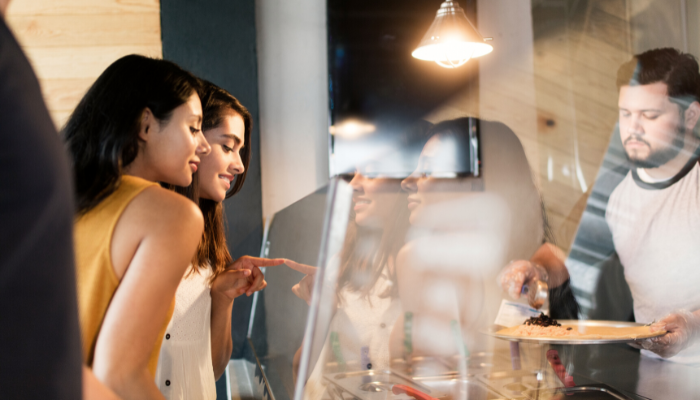 Fimble's targeted marketing features generate both online and in-store restaurant traffic
If you want to enhance your restaurant's sales and attract new customers, you must first create a framework to guide you. By making the most of Fimble's marketing features, you can reach a wide audience, ensure broad advertising for your restaurant and, most importantly, increase traffic both online and in your store.
Take a look at some of the key features of Fimble that will lead to more sales in your restaurant.
First of all: Data collection
Any successful marketing effort, be it communications or analytics, requires collecting multiple sources of information about active and potential customers. Fimble's data collection tools like dynamic forms, newsletter subscription options, profiling, and competitions, successfully provide valuable information.
Second step: Customer acquisition
Customer acquisition is about attracting new customers to your business. This process aims to develop a systematic, sustainable strategy to attract new customers and increase company revenue. Fimble's offer system provides a wide range of options to meet the marketing department's needs. There are different types of offers, such as automated (activated by simply adding the products to the shopping cart), guided (with wizard), as well as offers activated with a coupon.
We continue with: Segmentation of customers
Market segmentation is basically about dividing your target market into addressable groups. Market segmentation involves creating subgroups of a market based on demographics, needs, priorities, common interests, and other psychographic or behavioral criteria to better understand the target audience. Restaurant customer segmentation is incredibly valuable to a strategic marketing plan. The more information you have about your customers, the more you can segment your database to appeal to their unique tastes.
Track results: Conversions
A conversion simply means that someone responded to your call to action. This could be opening an email, signing up for a newsletter, requesting a demo, or downloading your app. Mass communications communication, competitions, and coupons are some good methods.
Near the end: Retention
One of the most common examples of customer retention is rewarding customers for doing business with a brand. Rewards programs encourage customers to return to your restaurant by offering them discounts, exclusive access, or special offers. Customer retention measures not only how successful a company restaurant is at attracting new customers, but also how successful it is at keeping existing customers happy. It also strengthens loyalty and brings in new customers.
Final step: Reengagement
Reengaging inactive customers is greatly improved by using discount coupons. Fimble automatically categorizes inactive customers (who have not placed an order for X days) and gives marketers the opportunity to run reactivation campaigns with a discount coupon.
Food for thought 
The marketing tools offered by Fimble are a variety of tools for acquiring and reengaging your customers online and in-store. It also helps you learn who your best customers are in order to find your best potential customers! Want to discover more about Fimble's unique features? Check this out: How to collect and organize your restaurant's data using Fimble.